Clinch River Health Services, Inc.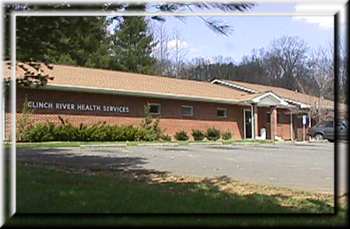 Rt. 1, Box 20
Dungannon, VA 24245
(540)467-2201


Meeting the Health Care Needs of Scott County

Mission
Clinch River Health Services, Inc. is a community sponsored outpatient health care facility providing comprehensive primary medical care, preventive medical care, and patient education. Incorporated as a non-profit membership organization, Clinch River Health Services, Inc. seeks to improve the health services and health education available to the people of Scott County.

Services
Full range of primary care services including Prenatal care, Pediatric care, Adolescent care, Adult and Geriatric services. Services are provided by Board Certified Family Practitioners.
On-site X-ray service and phlebotomy services.
On-site pharmacy.

Coverage
Almost all insurance programs are accepted, including Blue Cross and Blue Shield, Medicare, Medicaid, and most HMO plans.
Subsidized by a Federal Grant, Clinch River Health Services, Inc. is capable of providing care at a reduced fee to patients with no incomes or low incomes. All services provided at the center are covered, including a limited pharmacy program.